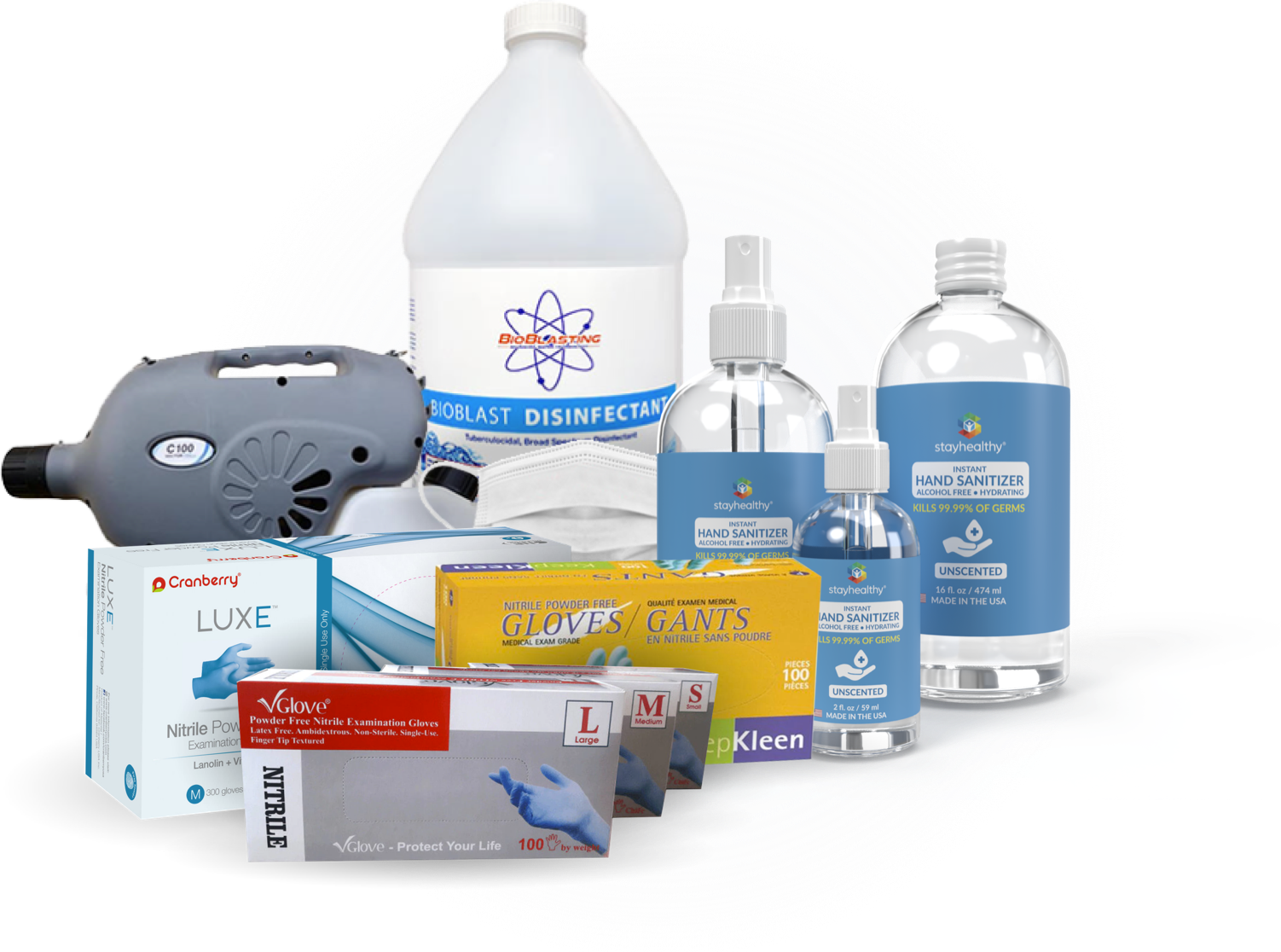 Products that improve
health, safety and survival
Stayhealthy's mission is to empower, inspire, and give hope to individuals, families, and communities to become healthier.
In keeping with our mission, we have developed product lines that help fight the spread of COVID-19.
BioBlast Disinfectant Technology
99.99% Kill rate
BioBlast is an environmentally-friendly, highly effective, antimicrobial product with 30 EPA Registered Kill Claims (99.99% kill rate) against various bacteria and viruses.
Our proprietary application system prevents human error and cross-contamination while being residue-free, people, pet, and planet-friendly.
BioBlast will effectively treat surfaces including ceilings, walls, and floors without wiping! It also neutralizes and deodorizes by killing the bacteria and eliminating odors at their source.
Industries that can use BioBlast:

TV & Film Studios
Airports
Healthcare Facilities
Retail Stores
Office Space
Manufacturing Facilities
Movie Theatres
Restaurants
Schools
Stadiums
Arenas
Hotels
Many More!
---
Alcohol-Free Hand Sanitizer
99.99% Effective Within 15 Seconds
Our unique patented formulation uses the active ingredient Benzalkonium Chloride (BZK) and features exceptional skin conditioning and moisturizing properties. Confirmed to reduce Staphylococcus aureus 99.99% in as little as 15 seconds. We are compliant with the FDA Final Monograph for OTC Hand Sanitizer preparations (leave-on sanitizers not requiring a rinse).
Our hand sanitizer produces a fast-drying, non-sticky liquid that contains unique non-drying, conditioning, and moisturizing ingredients, leaving the skin with a soft, refreshing and silky after-feel, and does not contain polymer thickeners or silicones. Perfect for dry skin or soft hands, will make your hands feel smooth and fresh.
FEATURES

An Alcohol-Free Alternative to Triclosan
Moisturizes & Hydrates the Skin
Kills 99.99% of Germs
Helps Reduce the Risk of Infections
NSF E3 Approved for Food Handlers
Recyclable Bottle
Made in the USA
---
Antibacterial Hand Soap
With Benzalkonium Chloride
Kills 99.99% Of Germs
Regularly washing your hands with our non-alcohol, antibacterial hand soap is the first line of defense to stop the spread of viruses and bacteria.
Stayhealthy hand soaps are the safe for all skin types including children and babies. Our antibacterial ingredient, Benzalkonium Chloride (BZK), kills 99.99% of germs while providing a one-step cleaning and sanitizing solution that moisturizes and conditions your hands.
Our products are USDA E2 compliant for the combination of hand washing and sanitizing. Safe and effective for use by hospitals, nursing homes, medical facilities, home, office and business use as well.
FEATURES

An Alcohol-Free Alternative to Triclosan
Moisturizes & Hydrates the Skin
Kills 99.99% of Germs
Helps Reduce the Risk of Infections
Safe For All Skin Types
Recyclable Bottle
Made in the USA
---
Anti-Pathogenic Tape
Apply to any surface, flat or round, to make it safe against bacteria and viruses for months
Kills 99.99% of Bacteria and Viruses
Uses a fully tested patented coating
Anti-Pathogen - Prevents cross-infection by killing 99.99% of bacteria and viruses
Non-Toxic - Made from 100% natural antimicrobial material
Ease to Use - Self-adhesive, easily removed without leaving residue
Easy to clean
Semi-permanent - Excellent durability
Options - Transparent or Non-Transparent
Available in 4.3" x 16.4' and 13" x 16.4' rolls, 30.7" x 19" desk mats, 6.1" x 9" sheets, and light switch covers
Length of effectiveness depends on daily traffic on that surface
---
Anti-Pathogenic Desk Screens
Prevent transmission of virus and bacteria
Kills 99.99% Of Bacteria and Viruses
Anti-Pathogenic coating prevents cross-infection by killing 99.99% of bacteria and viruses
Transparent, crystal clear material. Easily cleaned, using a proprietary cleaning solution
Prevents widespread transmission of droplets and aerosols
Easy to install and foldable for easy storage
For use in schools, cafeterias, offices, face to face customer service, hospitals, banks, libraries, restaurants, etc
---
Anti-Pathogenic Face Shields
Antimicrobial Potency 99.99%
The only face shield that kills 99.99% of bacteria and viruses
The only face shield with antimicrobial coating
Blocks droplets and aerosols
Crystal clear PET material for better visibility
Anti-fog coating on the inside of face shield
Flexible band + soft sponge
Comfortable to wear
Two sizes available (adult and kids)
---
Top Brand Gloves

We have multiple channels to the most trusted glove brands available
Superieur
Sri Trang
Qualitrile
Diall
V-Glove
Doctor 4U
Cranberry
Medic
Hartelega Gloveon
Kimberley Clark
Onceall
Intco
Hi Care
Maza
White Label Gloves
---
Face Masks
For all face mask inquiries, please fill out the form below